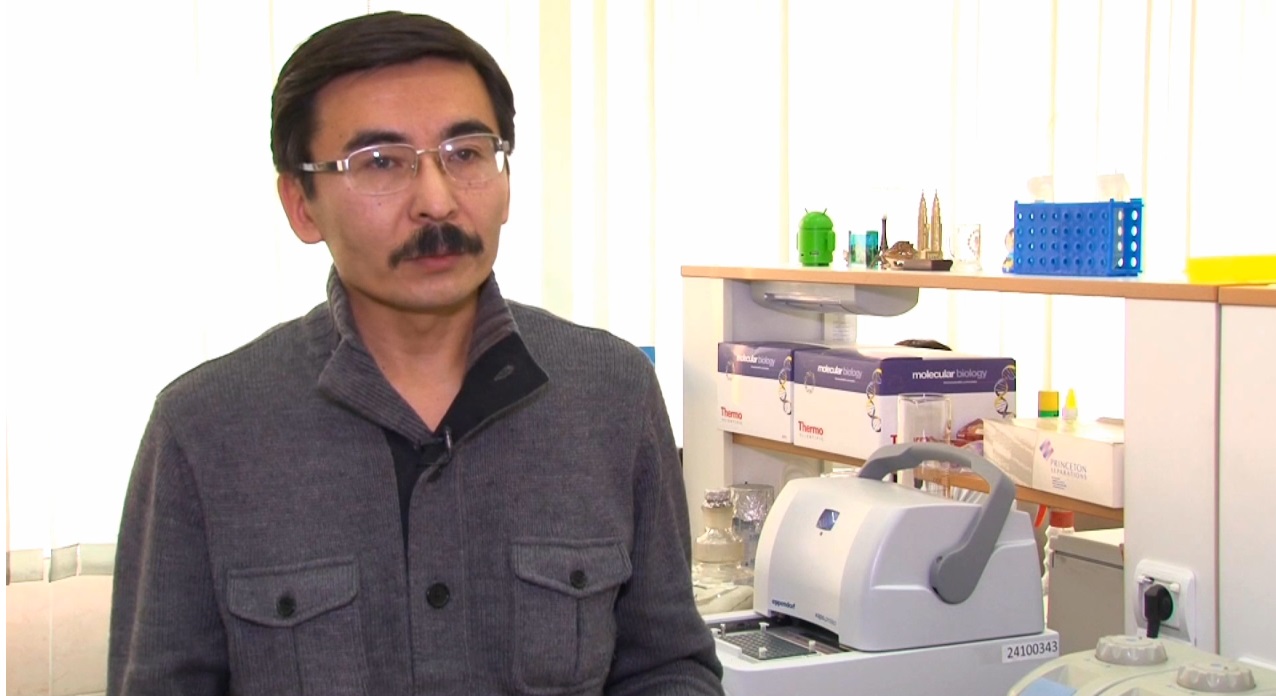 Head of laboratory — Nurbol Galiakparov, PhD. In charge since 2006. In 1994 passed Kazakh State University, Faculty of Biology, Department of Molecular Biology and Genetics, Almaty, Kazakhstan. In 2002 passed Hebrew University, Faculty of Agriculture, Rehovot, Israel. PhD thesis: "Etiology and molecular studies of the grapevine virus A". From 1995 to 1996 got fellowship at Volcani Center, Agricultural Research Organization, Israel. In 2003 have received Golda Meir postdoctoral fellowship for the research project "Induction mechanisms of the proto-oncogene c-Jun" at Department of Experimental Medicine and Cancer Research, Faculty of Medicine, the Hebrew University, Jerusalem.
 Состав лаборатории:
Natalia Ryabushkina, Leading Research Scientist, Candidate of Biological Sciences — «Plant Physiology»
Karlygash Aubakirova, Senior staff scientist, PhD in Horticulture
Dilyara Gricenko, Research assistant, Master of Science (Biology), PhD student.
Madina Omasheva, Research assistant, Master of Biotechnology, PhD student.
Bauyrzhan Smailov, Research assistant, Master of Biotechnology
Pozharsky Alexander, junior research assistant, Master of Biotechnology
Akerke Maulenbay, laboratory assistant, Bachelor of Engineering and Technology (Biotechnology).
Main activities:
Development of the systems for detection horticultural viruses;
Microclonal propagation of the virus free grapevines;
Genotyping and passportization of the grape and apple varieties;
Genotyping wild apple populations;
Developmentofplantvirusvectorsforexpressionofrecombinantgenesinplants.
Main achievements:
Have established system for regeneration of different grape varieties from meristem and apical tissue;
Have developed system for simultaneous detection of three grapevine viruses;
Have developed system for simultaneous detection of three apple viruses;
Using SSR markers analyzed genetic diversity of wild apples of Kazakhstan;
Have genotyped varieties of grapevine grown in Kazakhstan.
Current Projects:
"Molecular evaluation of genetic diversity of grapevine germplasm in Kazakhstan and identification by molecular markers certain genes for economically significant traits"
«Development of viral vector for production of recombinant proteins in plants»
«Molecular-genetic passportization of Kazakhstan's apple cultivars and identification of wild apple genotypes and Malus domestica varieties resistant to the most dangerous diseases»
Laboratory offers following services:
Virus detection in grape and apple;
Identification and passportization of the grape and apple varieties with a help of DNA markers;
Microclonal propagation of virus free grapevine;
Gene cloning, sequencing, expression in the bacterial systems;
Molecular biology techniques workshops.
Articles:
Ерболова Л.С., Рябушкина Н.А., Аубакирова К.П., Олейченко С.Н., Галиакпаров Н.Н. Микроклональное размножение на различных питательных средах // Вестник, серия биологическая. –2012.–№1(53).–С.14-17.
Рябушкина Н.А., Жунусова Ж.C., Ерболова Л.С., Берестнева Л.В., Галиакпаров Н.Н. Микроклональное размножение перспективных сортов винограда, созданных в Казахстане // Биотехнология. Теория и практика.–2012.–№1.– С.41-50.
Рябушкина Н.А., Омашева М.Е., Галиакпаров Н.Н. Специфика выделения ДНК из растительных объектов // Биотехнология. Теория и практика.– 2012.–№2.– С.9-26.
Омашева М. Е., Качиева З. С., Копытина Д. А., Касенова А. М., Аубакирова К. П., Рябушкина Н. А., Галиакпаров Н. Н. Разработка диагностической тест-системы трех вирусов яблони (ACLSV, ASGV, ASPV) на основе мультиплекс ОТ-ПЦР // Поиск. – 2012. — №2. – С.27-34.
Рябушкина Н.А. , Галиакпаров Н.Н. Перспективы генетической трансформации Винограда (Vitis vinifera L.) с целью улучшения полезных признаков культуры. Биотехнология. Теория и Практика. 2006, №3. с. 16-26.
Рябушкина Н.А. , Галиакпаров Н.Н. Генетическая инженерия вторичного метаболизма высших растений. Проблемы и перспективы. Биотехнология. Теория и Практика. 2007, №1. с. 13-28.
Рябушкина Н.А. , Галиакпаров Н.Н. Генетическая трансформация растений с целью повышения устойчивости к абиотическим стрессовым факторам среды. Биотехнология. Теория и Практика. 2007, №3. с. 10-23.
Рябушкина Н.А. , Галиакпаров Н.Н. Молчание генов в растениях. Как это явление можно использовать в биоинженерии. Биотехнология. Теория и Практика. 2009, №1. с. 15-31.
Рябушкина Н.А., Галиакпаров Н.Н., Рахимбаев И.Р. Трансформация растений пишевого направления в Китае. Биотехнология. Теория и Практика. 2009, №3. с. 22-33.
Рябушкина Н.А., Галиакпаров Н.Н., Рахимбаев И.Р. Трансформация растений с помощью агробактерий. Вероятные последствия. Биотехнология. Теория и Практика. 2009, №4. с. 19-37.
Рябушкина Н.А., Фасхутдинов М.Ф., Бекманов Б., Галиакпаров Н.Н. Потенциальные экологические риски, связанные с выращиванием генетически модифицированных культур. Биотехнология. Теория и Практика. 2009, №4. с. 68-82.
Omasheva M. E., Aubakirova K.P., Ryabushkina N.A., Tazhibaev T.S., Kampitova G.A., Galiakparov N.N (2014) Evaluation of five protocols for DNA extraction from leaves of Malus sieversii, Vitis vinifera and Armeniaca vulgaris. Genetic and Molecular Research, №13(1):1278-87
Erbolova L., Ryabushkina N., Oleichenko S., Kampitova G., Galiakparov N. (2013) The effect of growth regulators on in vitro culture of some Vitis vinifera cultivars. World Applied Science Journal. 23(1): 76-80
Galiakparov, N., Tanne, E., Sela, , Gafny, R. (2003) Functional analysis of the Grapevine virus A genome. Virology 306, 42-50.
Galiakparov N, Tanne E, Mawassi M, Gafny R, Sela I..(2003) ORF 5 of grapevine virus A encodes a nucleic acid-binding protein and affects pathogenesis. Virus Genes 27, 257-62.
Galiakparov N., Goszczynski DE., Che X., Batuman O., Bar-Joseph M., Mawassi M. (2003) Two classes of subgenomic RNA of grapevine virus A produced by internal controller elements. Virology 312, 434-48.
Haviv S, Galiakparov N, Goszczynski DE, Batuman O, Czosnek H, Mawassi M. Engineering the genome of Grapevine virus A into a vector for expression of proteins in herbaceous plants. J Virol Methods. 2006, 132(1-2):227-231.
Galiakparov, N., Sela, , Tanne, E. and Gafny, R..(1999) Infectious RNA transcripts from Grapevine virus A cDNA clone. Virus Genes 19, 235-242.
Rubinson, E., Galiakparov, N., Radian, S., Sela, , Tanne, E. and Gafny, R..(1997) Serological detection of grapevine virus A using antiserum to a non-structural protein, the putative movement protein. Phytopathology 87(10): 1041-1045.
Spiegel, S., Scott, S. W., Bowman-Vance, V., Tam, Y., Galiakparov N. and Rosner A. (1996) Improved detection of prunus necrotic ringspot virus by the polymerase chain reaction. European Journal of Plant Pathology 102: 681-685
Рябушкина Н.А. Трансформация растений. Достижения и проблемы // Биотехнология. Теория и Практика. 2006, №2. с. 14-31.
Рябушкина Н.А. , Галиакпаров Н.Н. Перспективы генетической трансформации Винограда (Vitis vinifera L.) с целью улучшения полезных признаков культуры. // Биотехнология. Теория и Практика. 2006, №3. с. 16-26.
Рябушкина Н.А. , Галиакпаров Н.Н. Генетическая инженерия вторичного метаболизма высших растений . Проблемы и перспективы. // Биотехнология. Теория и Практика. 2007, №1. с. 13-28.
Рябушкина Н.А. Полимеразная цепная реакция. Оптимизация. Модификации и применение. // Биотехнология. Теория и Практика. 2007, №2. с. 84-92.
Рябушкина Н. А., Галиакпаров Н.Н. Генетическая трансформация растений с целью повышения устойчивости к абиотическим стрессовым факторам среды. // Биотехнология. Теория и Практика. 2007, №3. с. 10-23.
Копытина Д.А., Омашева М. Е., Касенова А.М., Качиева З.С., Галиакпаров Н.Н (2012) Молекулярные основы иммунитета растений. Биотехнология. Теория и практика. №3, 31-41
Омашева М. Е., Аубакирова К.П., Рябушкина Н.А., Береснева Л.В., Галиакпаров Н.Н. (2013) Использование универсальных флуоресцентно-меченых праймеров в генотипировании казахстанских сортов винограда по микросателлитным маркерам. Биотехнология. Теория и практика. №2,35-41
Omasheva M.E., S.V. Chekalin S.V., N. N. Galiakparov N.N. (2015) Evaluation of molecular genetic diversity of wild apple Malus sieversii populations from Zailiysky Alatau by microsatellite markers. Russian Journal of Genetics, Volume 51, Issue 7, pp 647-652